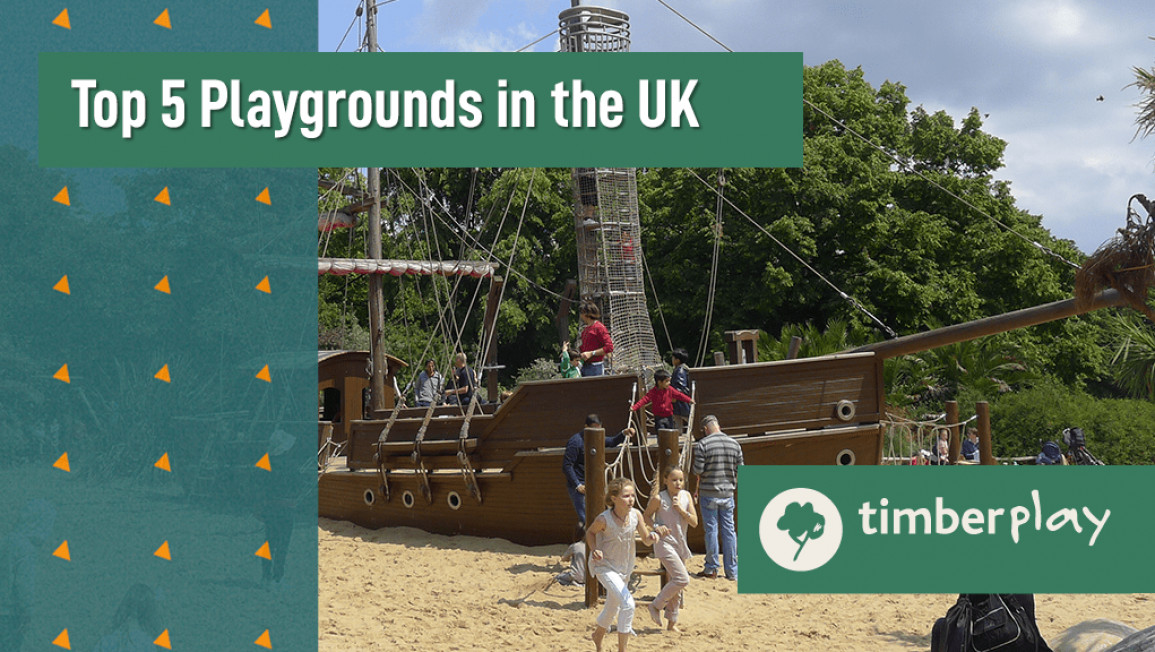 5 Best playgrounds in the UK
14 Mar 2023
Selected News Story
News
To understand what really makes a great playground, it is important to look at it through a child's eye's and engage with what they want out of a playground design. Children need equipment that will encourage physical activity which can help them become braver and more resilient, as well as develop mentally through equipment that requires problem solving and social interaction. Paired with this, the most important part of a great playground is one that is safe, but still encourages risk. Based on this, 5 playgrounds have been picked out from the UK that encourage children to be creative and active.
1. Diana Memorial Playground
Opened in June 2000, the Diana memorial park is a key attraction within London and for good reason. Based on the story of Peter Pan, the large ship has key features which are sure to capture the imagination of children, nets, climbing ropes, a cabin and lofty crow's nest. Alongside this main feature, there are various pockets of play such as smaller ships and play huts, as well as a sensory garden and trail to encourage all children to get involve. The play area also includes water and sand play, perfect for young children to get involved with. Within this wide range of equipment, 'hidden' areas within the park are still to be discovered, which are sure to excite the children when they are eventually explored.
See more of this project in our case study here
2. The Great Field, Dorset
The Great Field playground is part of a wider Poundbury development by the Duchy of Cornwall, and was officially opened by Prince Charles himself in May 2022. The park offers a great day out to families, with a wide range of equipment that children can spend hours on trying to master. The site uses sustainable materials to reflect upon architecture within the village. This is shown with the medieval 'Buttercross Play' tower which intimates the Buttercross Market within Poundbury. Other play structures have also been made to replicate community buildings, a unique idea that develops the child's education in a different way. Within the site, Horizontal Bars, Climbing structure and Balancing Beams offer physical challenges for the children, as well as a small climbing wall to get into the buildings which is mode suited to younger children.
See more of this project in our case study here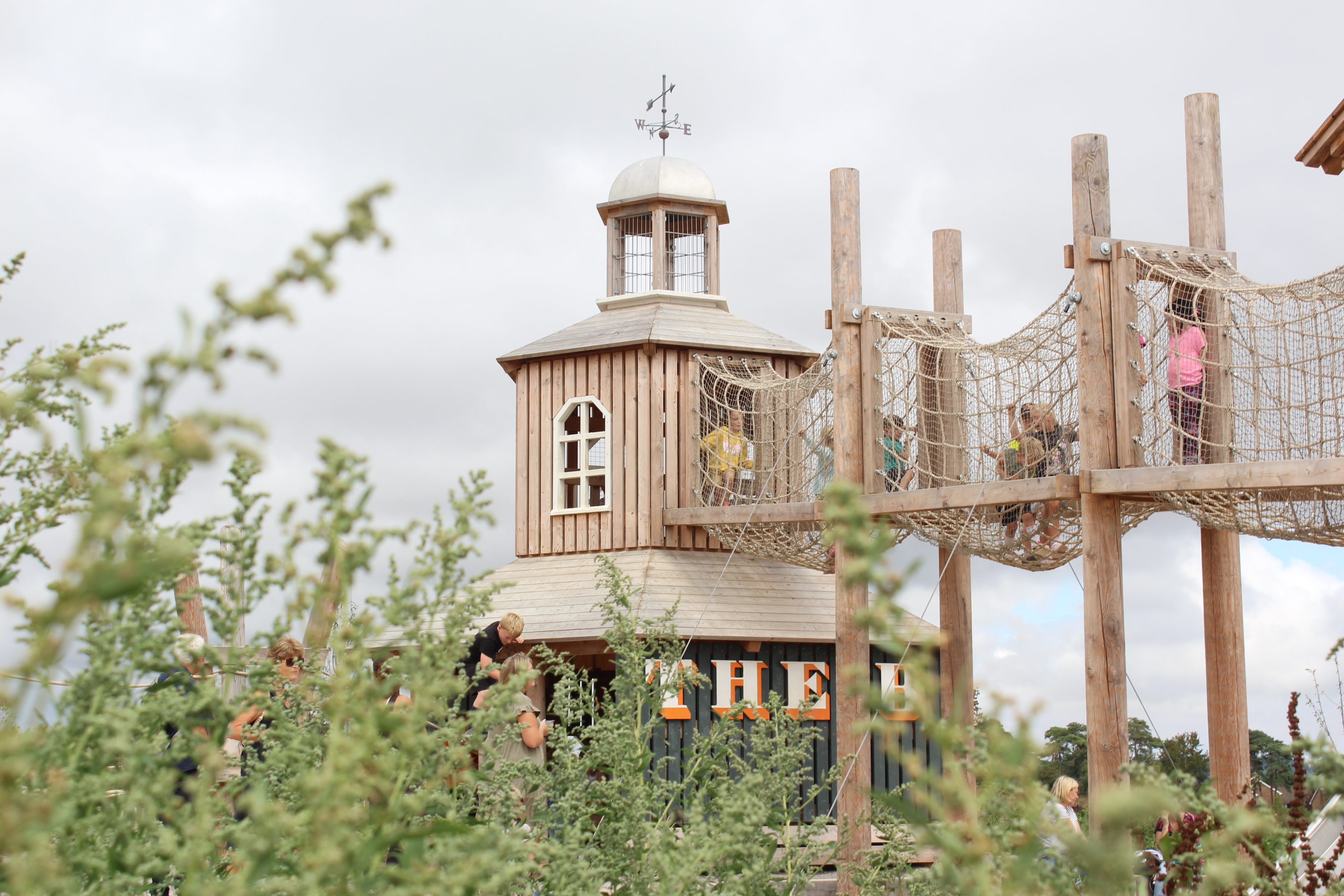 3. Chester Zoo
With over 1.6 million visitors annually, it's no wonder Chester Zoo introduced a play area to boost the play value at the site, as well as encourage exploration for the youngsters. Within the site, A large climbing structure is the prominent structure, which provides a challenge to all ages. Supporting this, a cradle nest can be used by all for a variety of play experiences. Children can either all get in the swing and use their momentum to gain speed, or one can stand outside and push the swing to increase the speed! Specific planting supports the play area, blending in well with the play structures and offering an unconventional way of playing
See more of this project in our case study here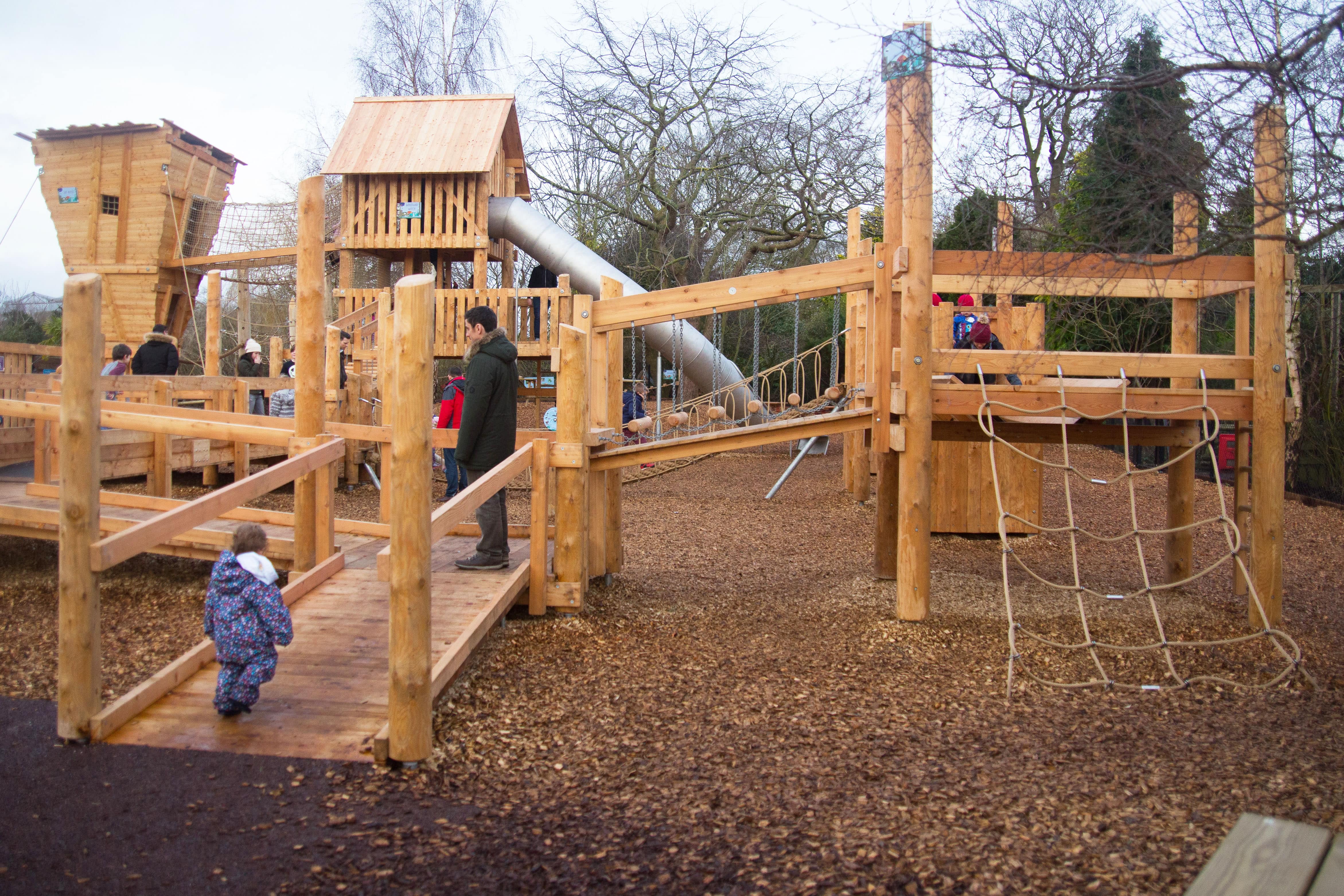 4. Jubilee Gardens, South Bank
Located on the South Bank, this structure sits right by the London eye and is a piece of architectural brilliance. This location provides the perfect playground for children and adults alike, with plenty of seating for parents to watch on as children tackle the climbing structures and 'timber wood tangle'. The equipment allows for many people to use it at once which is perfect for the busy location and for social play. The playground offers an element of gradual risk, allowing children to find their bearings and assess whether they want to try riskier manoeuvres. The playground is completed with a flock of wooden sheep, adding more character to the design.
See more of this project in our case study here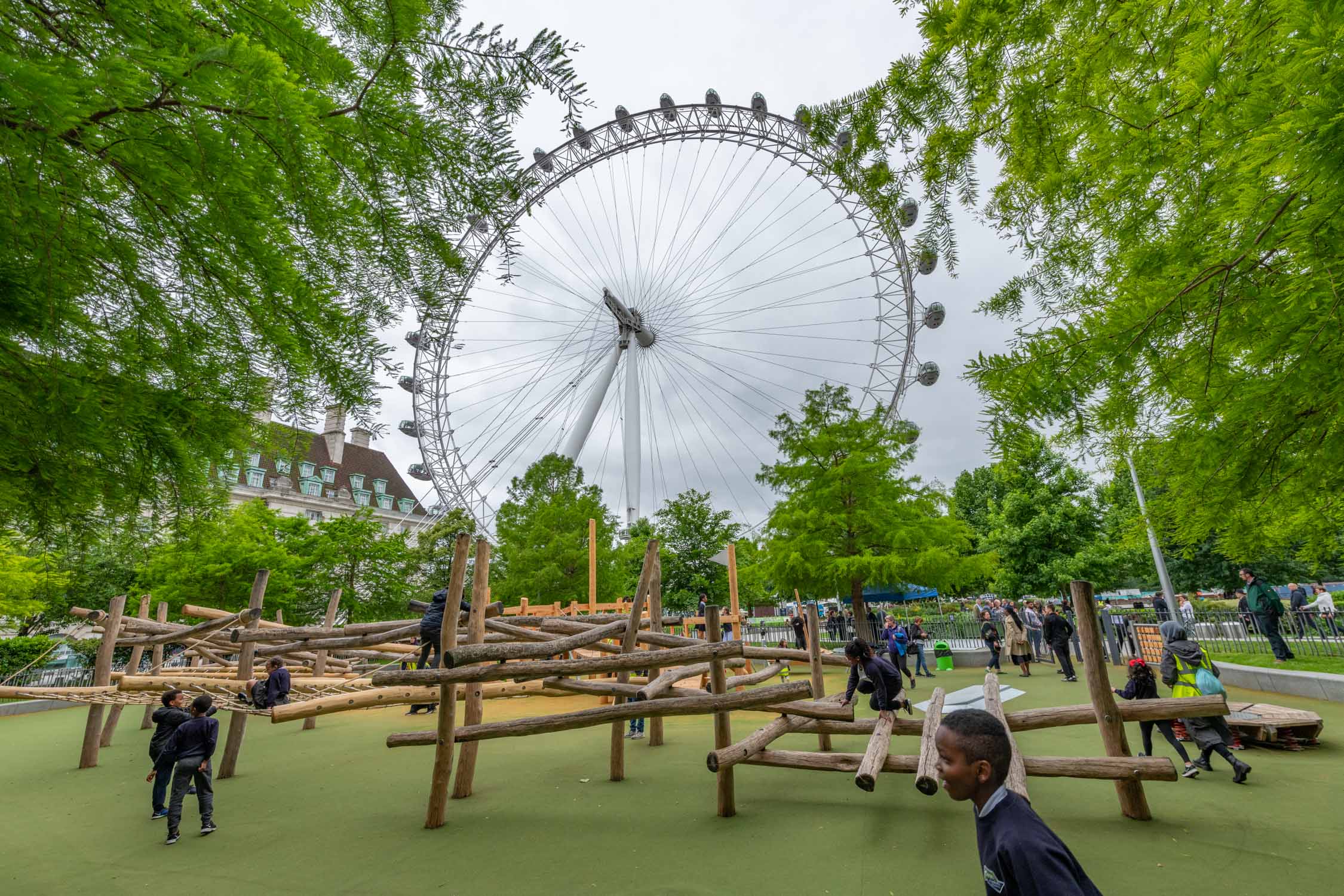 5. Tumbling Bay playground, Olympic Park
The Tumbling Bay playground was built within the Queen Elizabeth II park for the London Olympics and offers a supreme range of equipment for children to play on. Jumping discs, balancing blocks as well as a large fort all made out of timber give the play space a natural feel, especially when paired with the wide range of sand and water play this site has to offer, which encourage the understanding of scientific principles. Playground pumps and lock gates allow children to create and alter the flow of water which travel through the channels and canals created within the surface.
See more of this project in our case study here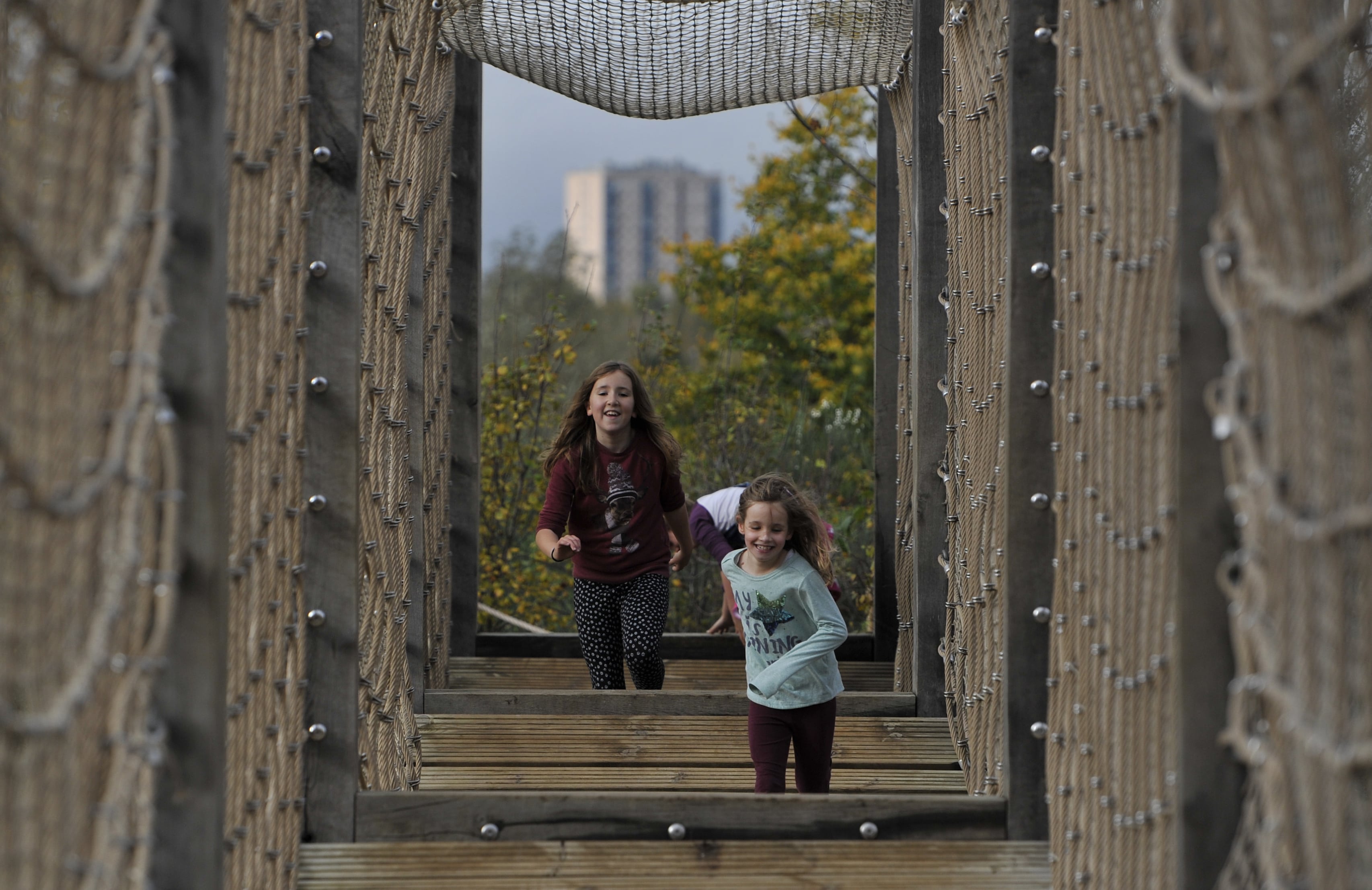 Timberplay specialise in natural, landscape-led play solutions for the UK, Middle East and beyond. If you want to find out more about working with Timberplay contact us here for a chat.