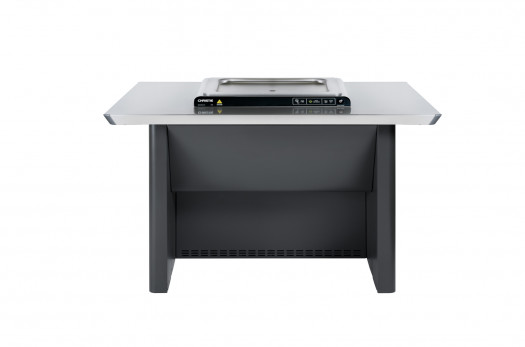 ICON Series

Standard
The Standard and Large ICON cabinets are Disability Discrimination Act (DDA) compliant, so seated and standing users of all abilities can cook with ease.
They are also straightforward to clean and maintain. Quick-release doors are easily removed for service, cleaning, or changing the opening swing direction. All panels and doors are readily available as spare parts. The split doors allow cleaners to handle the waste tray at knee-height, rather than lift it off the floor. A grease trap overflow system exits the cabinet to avoid excess waste build-up.
Christie Barbecues
ICON Series
Our ICON accessible barbecue cabinet is a modern interpretation of our industry-defining Modular cabinet launched 25 years ago. The versatile design incorporates current requirements for sustainability, inclusivity, and occupational health and safety.
The sleek shark nose design combines a small footprint with our largest benchtop to provide extensive, individual food preparation areas. The all-stainless construction makes it durable, corrosion-resistant, and easy to clean. Available off the shelf in brushed stainless-steel, or powder-coated in Weathered Steel or Dulux Monument, you can also select from an extensive range of colours (lead times apply). Regardless of the location, the ICON cabinet has you covered.
Electric Cooktops
A Series
ICON Series
Modular
Price Enquiry
Christie - Standard